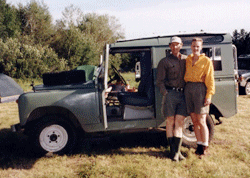 Garrik "Dr. Rik" Olsen and Family
Member Since: 1997
Land Rover Fleet:
1996 SE7 5sp
1960 SWB SW
My interest in Land Rovers dates to the beginning of the SUV craze in the early 90's. The Discovery was the first with double airbags and was in the Camel Trophy. It was a nice blend of safety and adventure. I was in grad school at the time so even a lease or a non-repairable was out of the question.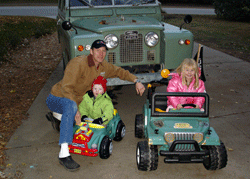 The bug burrowed deeper during travel to Australia and England. These Land Rovers were all over the place! Even after grad school, I had to admit that a new one was out of my reach.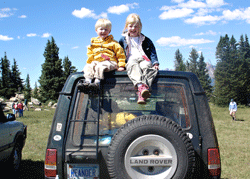 So I did the opposite. While in training in Duluth, I met an enthusiast who saw me reading about the Discovery. He commented, "Why don't you get a REAL Land Rover?" That got me thinking and researching. Eventually, a wrong turn in South Minneapolis put me on a deserted street face to face with my new love. The current owner didn't care much for the 1960 SWB SW, but he could tell I did and made me really work for it. Literally. I worked many extra shifts to be able to afford that oldie with one brake, a rusted footwell, primer exterior, broken speedometer, side out exhaust, and Volvo seats. It must have been love since no right minded person would have bought it! She was mine in 1998, the 50th anniversary year. About 8 years and new brakes, tires, full clutch, radiator recore, engine rebuild, hand painting, and replaced springs later, the old girl was road worthy enough for the circle tour.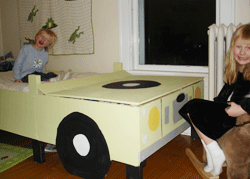 By then, she had a grocery getter sibling in the 1996 SE7 5sp. I'd finally gotten the truck that brought me to Land Rover. Since 2004 when she arrived home, she's been through quite a bit including the typical repairs and modifications plus trips to Colorado with the Sollihul Society and Virginia with the ROAV. I was a club member in 1997 as a non owner, but took a break from the club when the kids were really small and I was off the road doing the engine rebuild. My first club event was the Backus "picnic" in August 1999. We didn't know it at the time, but our daughter was with us on that trip!
My favorite parts of the Land Rover scene are:
The people in the clubs
The opportunities to travel.
The chance to take my little family deep into the woods where no motors can be heard.
I am recognizable by my overly enthusiastic kooky ideas, camping martini kit, vegetarianism, and family of wife Kelly, daughter Grace (b. 2000), and son Dane (b. 2002).
Plans for Rovers:
Discovery: paint bonnet black and fit vent cowling
Series: rebuild transmission (doesn't go in and out of 1st anymore…) and replace footwell