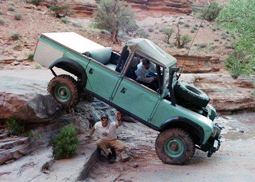 Charlie Malachek
Member Since: 1985
History:
The MNLR club originally was first named Northwoods LandRover Club and was established in 1984. In 1998 the club members voted to change the name to MNLR. I am one of the few club members from that era.
I acquired my first Land Rover in 1981 before I had a driver's license. It was a 1966 IIA 88. I used it like a tractor on the horse farm I worked at. Then one day the farmer decided to sell it, so that evening after work I drove it home and kept it (it's a long story). I spent 2 years "fixing it up". In 1984 I met Bill Osterhiem, one of the co-founders of the club (Andy Goldfine is the other co- founder). Bill moved to Texas in 1992 and left me in charge, so to speak. I was the president from 1993 until I stepped down in 2003. The club has changed since back then. If you want a complete history of the club from 1984 to present I have a document for you to read.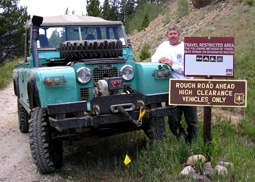 From 1985 to 1996 I used my Rover primarily for parades. Each summer I would use it to pull the Maple Lake Royalty float (which carried a Queen, 2 Princesses and Miss Congeniality) in about 20 parades around central MN and the Twin Cities suburbs. During this time period I only 4-wheeled at the annual picnics. In 1996 at the Annual Picnic, I tried climbing a steep hill. I made it half way up, only to slide backwards uncontrollably smashing the entire passenger side of my Rover against a tree. It was at that point I retired my truck from parades and decided to build an extreme Rover that would be capable of doing more challenging obstacles.
It was also about this time I started getting involved in the MN4WDA. In 1997 I was elected to the MN4WDA's board of directors through 2000. In 2001 I was elected President of the MN4WDA until 2003.
In 1996 I purchased a 1967 IIA 109 from a club member and sold my former "parade Rover" to a fellow club member (John Armstrong). The 1967 109 was a running rust free unit that already had a Chevy motor & transmission in it with Toyota axles front and rear. But it was a ruff project at best. Over the course of the next four years I replaced and or modified every major component on the truck. The only major component that still remains Land Rover is the outside body. It's a 1967 109 "Streetrod". The interior floor pan and firewall were custom made and painted by Miller Repair. We also cut the rear side door tops and capped them to mimic Santana doors. This gives the Rover a pickup style look with my canvas half top.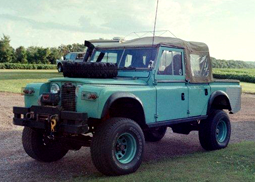 The front seats are Jazz brand raceing seats. There is a four point internal roll cage. The engine is now an EFI 5.7 liter V8 which breathes thru a custom made snorkel. In theory I can ford over four feet of water if I keep moving, but that would not be environmentally correct. The engine pushes the exhaust out a Flowmaster custom exhuast system. The motor is attached to a custom built turbo 350 AT attached to a NP205 gear driven transfer case. It has custom made "Power Train" driveshafts. The rear axle is a Ford 9 inch custom narrowed and modified by Warn Industries, which contians a full racing spool (both wheels turn the same speed always, its hard on the tires, but fun). The front axle is a Toyota pickup/4-Runner axle, the joints have been custom welded and cryogenically frozen. The front differential has a Lock-Right mechanical locker. Both axles were fitted with disc brakes. The truck has a winch, rock sliders, several skid plates, and a 25 gallon fuel cell. I have aluminium diamond plateing on the top of both front wings, rear quarter panels, and covering the load space. I painted the truck my favorite color……green.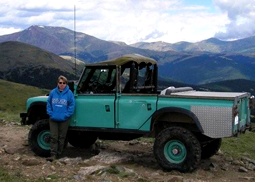 In the summer of 1998 my wife, Terri, and I decided to drive the Rover to Colorado for a National Solihull Society Trail Ride. The event was great! The freeway way trip there and back was grueling. No AC, cruise control, radio or I-pod. I don't know who whined more during the trip, the Super Swampers, me or my wife.
I then decided to build a custom 40 foot camper trailer to enable Terri and I to attend more national rover events and other out of state trail rides. We usually try to take one national trip each year. I have been to Virginia to the Mid-Alantic Ralley, and Solihull events in Colorado. I have attended club trips to Moab. I usually trailer my rover to events. But a few people have seen it driven around for pleasure use on the highway, but never in a parade. Despite this people have called it a trailer queen.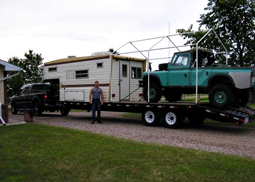 Over the course of my 27 year Land Rover fasination I have owned 6 series Land Rovers & 2 parts vehicles. The coolest one by far was a 1967 Doormobile. I sold it several years ago to a guy in Maine, but had the great pleasure in seeing it again this past year at a national Rover event in Virginia. Maybe some day with the help of my most excellent friend Eric Paavola (he is pictured kneeling under my Rover in Moab), I may eventually graduate from Series Rovers to one with air conditioning and power windows…………….NOT.
Long live leaf springs!