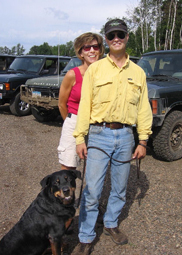 Patty and Peter Leckband
Members Since: 1996
The Leckband Rover History:
Peter was first involved in Land Rovers as a salesman, then Land Rover service specialist at Carousel Automobiles in 1989. In 1996, Jim Ryan found a Land Rover club meeting in Long Lake. We've been participating ever since.
Our first (owned) Land Rover was a 1990 Range Rover named Bullwinkle. Bullwinkle's previous owner drove him on the very first Border-to-Border event. He's no longer with us, but parts of Bullwinkle live on: Tony Kiefer has his hood, and the engine and transmission are going into Nigel (the 1958 LR 109" Pickup at Expedition Autoworks).
Bullwinkle went on many adventures with us, including trips to North Carolina and Moab, Utah. His very first off-road adventure was at the Pipeline event sponsored by the Chicago Land Rover Club in 1998.
Bullwinkle took us through Backus, Trollhaugen, Rolling Rock, and the Badlands of South Dakota (including the scary campsite). He proved both capable and reliable, in the end... just rusted out.
After Bullwinkle, we added Bobby to the fleet, and TWR (the highly desirable Tom Walkinshaw Racing 1995 Short Wheelbase Range Rover).
Then added a 1997 P38 Vitesse in AA Yellow.
Our most recent addition is Jim. Jim is a 1965 Land Rover 109" Tropical Roof Station Wagon that a previous owner had cloned into a Stage 1 V-8. Peter blew up the engine, and so Jim is getting a fuel injected Land Rover 4.0L and matching automatic transmission. Proudly, unlike Charlie's hot rod PseudoRover, Jim is still
all
Rover!
Rover Photos: