Dougan Family
Member Since: 1993
Had the good fortune to take the first Range Rover off-roading with the Club, a 1993 LWB, followed by the first Defender 90, a 1994. Currently own a 1991 Range Rover and a 2007 LR3.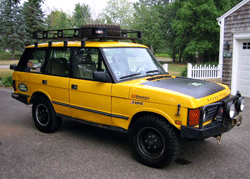 1991 Range Rover

Roman Bronze color, purchased in 1995 through Rovers North. Mike Hopwood repainted the vehicle yellow, added ARB Bull bar, Old Man Emu lift and shocks, ARB Compressor, Lockers front and rear, Hella 2000's and rear work light. Vehicle was copied after a 1991 Range Rover that my wife and I drove in Baja, California. Have owned three other Range Rovers, one LR3, one Discovery, two Defender 90's and one '93 Defender 110.
Family

Wife Lynn, spouse of 38 years, who is Office Manager at Presentations Plus, Inc. Graduate of The Land Rover Driving School in California, who prefers to sit quietly at my side, even while a vehicle is slipping below a lake. Son, Matt, who drives a 95 Defender 90, heavily modified, in and out of The Mojave Desert. Resides in Mill Valley, CA where he works for Image Movers Digital, doing digital compositing for the movie industry. Recently completed "Beowulf" now working on "A Dickens Christmas".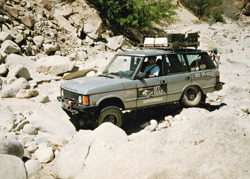 About Me

President of Presentations Plus, Inc. a company I started in 1984. Moved to Minneapolis from the East coast in 1997 to head the Design and Visual Merchandising departments at Dayton's. Previously held similar positions at Jordan Marsh, Boston and Macy's NY. Former President, Western Association of Visual Merchandisers and Board Member, National Association of Display Industries. Currently oldest member of the MNLR.
Interests

Land Rovers, Gardening, Good Wine, Bad Wine, any Wine and Music. Hanging out with my bride. Recently began playing Drums again, after a 38 year layoff. Played around New York City prior to Army service. Stationed in Brussels, Belgium, where my Bride and I were married. Recently left the KGB Band, having raised over $25,000 for Charities. Forming new Blues Band, currently unnamed. Lover of BIG Dogs, having had a 195lb Irish Wolfhound and currently Emmett,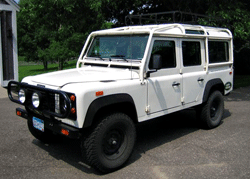 a 145lb Otterhound. 40+ Otterhound pups born last year in the US, so quite rare. Emmett enjoys kenneling with his friend Fergus, the only other Minnesota Otterhound.
Most Gratifying Moment

Donating a kidney to our son on Valentines Day 2005.
Most Horrific Moment

Having to sell my Defender 110.